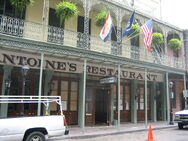 Antoine's Restaurant is arguably one of most famous restaurants in New Orleans. As the second oldest eating establishment in the United States and the oldest still run by the original family, Antoine's has a special place in the history of food and culture of New Orleans and America.
Antoine Alciatore was born in Toulon, France, where he learned to cook at a very young age. He then apprenticed and worked in many restaurants throughout the south of France before moving to America, and soon enough, New Orleans in 1831. In 1840, opened a small restaurant in the French Quarter and called it Pension Alciatore. With the help of his wife, the small restaurant quickly became too popular for its space. Twenty-eight years later, he moved down the block to the current location at 713 Rue Saint Louis, a much larger space with plenty of options to expand. Antoine cooked in a classic French style, which suited the culture of the city, and introduced the pommes de terre souffles, or souflled potatoes to the American dining scene. These potatoes have continued to be served in the French styled restaurants in New Orleans ever since.
In 1874, Antoine left New Orleans, wishing to return to France before he died, which he did less than a year later. The restaurant was left if the able hands of his wife, who then passed it down to their son, Jules, after he has studied in the great restaurants of Paris, Marseilles, and New Orleans. Jules worked hard in the kitchen, and is credited with inventing many of the Creole dishes that Antoine's is famous for, such as Oysters Rockeffeler, Pompano en Papullote, Eggs Sardou, and Cafe Brulot. These dishes were some of the first fine dining Creole dishes, combining old-style French technique with New World ingredients, like using local oysters on the half shell instead of the traditional escargots, adding artichokes to eggs benedict, and oranges into coffee.
The restaurant expanded into all the space it could transform into a dining room, from the stables to the cellar that had formerly been used as a prison, naming the rooms after Mardi Gras Krewes, favorite foods, and their purposes. The Mystery Room is where Antoine's opened its speakeasy during Prohibition, and the Japanese Room, which celebrated the arts and culture of Japan, was closed after the Japanese bombed Pearl Harbor. It reopened in 1984, fully restored to its original glory.
The waitstaff at Antoine's has created a culture within itself, similar in style to Galatoire's. Although they no longer have to train for ten years to become a full fledged watior, every order is expected to be memorized, not written down. Positions sometimes run in families, and regular customers have their own prefered waitor. Rules and relationships are not quite as strict as they once were, but the fact remains that Antoine's helped create a fine dining culture in New Orleans and American that persists to this day.