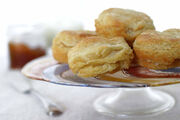 In 2008, Natchez Mississippi was named the Biscuit Capital of the World, a title they claimed themselves after extensive research to make sure they were the only ones to be the Biscuit capital, and to justify the distinction. Biscuits are not an anomaly in Natchez, and there's no one to say they make the very best biscuits, but the three years spent in ensuring that the title was clear say that biscuits might mean more here than anywhere else. Not only does the city boast miniature biscuits from the Carriage House, a restaurant named Blues and Biscuits, but they also host the annual Martha White Biscuit Cookoff. Chef
Regina Charboneau
of
Twin Oaks Plantation
is renowned for her biscuit recipe and teaches many classes on how to make the proper biscuit. Every restaurant in the city is invited to participate in the cookoff, and many do bring their creations in to compete with grandmothers, children, and family biscuit kings and queens. A biscuit recipe is easily adapted to the cook, and no two are quite alike.
Ad blocker interference detected!
Wikia is a free-to-use site that makes money from advertising. We have a modified experience for viewers using ad blockers

Wikia is not accessible if you've made further modifications. Remove the custom ad blocker rule(s) and the page will load as expected.