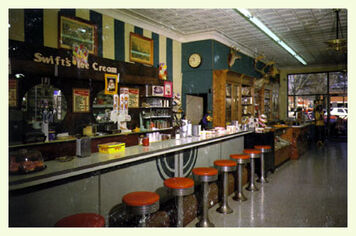 Borroum's Drug Store in Corinth, Mississippi was established in 1865 when Dr. John Borroum was on his way home to Oxford, MS from a Federal Army prison camp. He met an old friend in Corinth and decided to stay and open up the first pharmacy in the town.
As one of the only stores in town, it quickly flourished and became the place to go for foods, perfumes and medicine. In the 1930's, the store was modernized by Dr. Borroum's great-grandson with the addition of tables, chairs, and a soda fountain, which remain in use today.
While still serving as a working pharmacy, the store has become a museum of sorts, with collections of the original dispensing bottles for medicines, Native American artifacts, and Civil War artifacts. They also specialize in selling fine tobacco, coffee, and candy. Borroum's Drug Store is a faithful representation of the typical pharmacy of America's past, and it continues to serve the town that has welcomed it for the past 150 years.