Because of the abundance of
crabs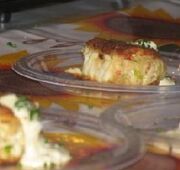 that once graced the
Chesapeake
, this shellfish was a common addition to any meal in the region. Crab cakes were a natural extension of picking and eating the meat straight out of the shell, and made the meat into a more elegant dish. In Maryland, the making of a crab cake is very personal--family recipes are closely guarded secrets and everyone's mother makes the very best one. A traditional Maryland crab cake is very simple, using only a few ingredients to lightly flavor the delicate crab meat and just enough filler to hold it together. Usually there will be a dab of mustard, mayonnaise, a splash of seasoning such as Old Bay, an egg and some crumbled crackers or breadcrumbs, all added to jumbo lump or back fin crab meat. The cakes are formed and can then be broiled, fried, or sautéed, and served hot, on a sandwich or a platter. Of course debates rage as to who actually serves the best crab cake in Baltimore, so it seems the only way to truly decide is to taste them all! The important thing is to make sure that the crab meat is local, from Chesapeake Bay or one of its many rivers. Some favorites include Faidleys in Lexington Market, G & M, and the Narrows on Kent Island, but as some have noted, any crab cake in Baltimore will probably be above average for anywhere else.
Ad blocker interference detected!
Wikia is a free-to-use site that makes money from advertising. We have a modified experience for viewers using ad blockers

Wikia is not accessible if you've made further modifications. Remove the custom ad blocker rule(s) and the page will load as expected.