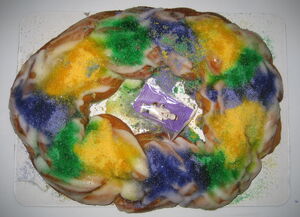 A
King Cake
is a baked good traditionally associated with the holiday of Epiphany. King Cakes in different forms and varieties are traditionally eaten in many European countries, including Switzerland, France, Spain, Belgium, Greece, and Portugal. The cakes are called "King" because they represent the three kings of the bible. Christian tradition states that it took the kings twelve days (the twelve days of Christmas) to reach Bethlehem, whereupon they venerated the Christ child on Epiphany day.
In New Orleans, the king cake has evolved into a braided brioche bread ring that is topped with sugar, usually with a cinnamon-roll like flavor. The sugar alternates in the three colors of Mardi Gras: purple to represent justice, green to represent faith, and gold to represent power. Tucked inside the bread is a favor -- commonly called the "baby" as that is its most common form. Traditionally, king cake is first served each year on Twelfth Night, January 6, and is served throughout the Mardi Gras season until Mardi Gras day. Now, however, the cake can be easily bought before January 6 throughout New Orleans, as various bakeries and groceries vie for the best rendition of a beloved festival-time treat.
In the past, a bean or favor was hidden in the cake. For many years in the twentieth century, china kewpie dolls were used. Today, plastic babies of approximately one inch in length are used.
At one time, the finder of the baby figurine was the "king" for the day. Later as King Cake parties were popularized, the finder of the baby was obliged to give the next King Cake party. Now, as king cakes are commonly sold at grocery stores and bakeries, when a cake is served at the office, the finder of the baby must supply the next king cake.
Bakers have embellished the traditional king cake. Today, they are often covered in colorful icing, filled with fruit or cheese centers of varying complexity and composition, and even filled with chocolate. The New Orleans Cake Cafe sells a delicious goat cheese and apple version, Haydel's Bakery fills theirs with praline, and the local Whole Foods produces a vegan rendition of the classic.
The king cake may have derived from the French Gateau du Roi or Galette du Roi (the cake or "wafer" of the kings), is an almond cake with a favor hidden inside in much the same mode as the New Orleans style pastry. In New Orleans, that cake is called a French King Cake, also related to Twelfth Night.
King Cake Resources
Edit
Big Fat King Cake Tasting at Tulane's Newcomb Center for Research on Women.