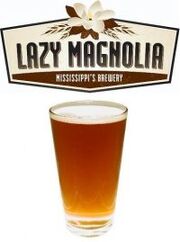 Lazy Magnolia Brewery is Mississippi's first brewery to open since Prohibition. Located in Kiln, Mississippi, the brewery has been producing a variety of local ingredient driven beers since June, 2006. Leslie and Mark Henderson, the owners and founders, found themselves immersed in beer culture quite unexpectedly, fueled by an impulsive gift of a home brewing kit.
They spent several years learning the trade and how to use their skills commercially before opening their brewery, and the result is evident in the selection of beer they now offer. Southern Pecan, their flagship brew, was the first beer to use whole roasted pecans, which were readily available in southern Mississippi, and their Jefferson Stout is made with local sweet potatoes, creating a heavy, creamy beer.
They offer free tours of the brewery every Saturday at 10:30 AM, and although laws prevent them from handing out samples, there are many places in town that can give you a fresh pint of the delicious, home grown Mississippi brew.