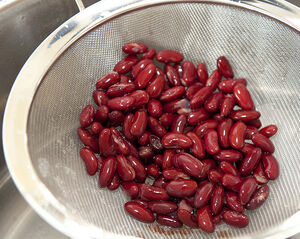 Description
Edit
From The Dooky Chase Cookbook
Ingredients
Edit
1 pound red kidney beans
2 quarts water
1 large onion chopped
¼ cup vegetable oil
1 pound smoked ham cubed
1 pound smoked sausage in ½ inch slices
1 cup water
1 tablespoon chopped garlic
1 bay leaf
1 teaspoon black pepper
2 table spoon chopped parsley
1 teaspoon whole thyme leaves
2 level tablespoon salt
Directions
Edit
Pick through beans, removing all bad beans or any other particles.
Wash beans well.
Place beans in a 5 quart pot.
Add the 2 quarts of water.
Add onions and bring to a boil.
Lower heat and let beans boil slowly for an hour.
When beans are soft stir well, mashing some against side of pot.
Heat oil in frying pan; add ham and sausage.
Sauté in oil for 5 minutes.
Then add the sausage, ham, and oil to beans.
Deglaze pan with the cup of water, then pour into beans.
Add all other ingredients.
Let simmer for 30 minutes.
Beans should be nice and creamy.
Serve over rice.