Leopold's Ice Cream Parlor has been a local Savannah institution since 1919. It was in that year that brothers Peter, George and Basil Leopold founded the first parlor on the corner of Gwinnet and Habersham Streets in downtown Savannah. Peter was the brains behind the ice cream itself, having learned family secrets to delicious homemade ice cream and single handedly perfecting the Leopold's Ice Cream base recipe, as well as creating the first batch of classic Leopold's flavors. That same recipe is used in the parlor today and many of the same flavors have remained on Leopold's menu.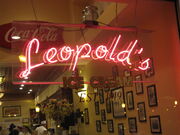 The location on Gwinnet and Habersham remained open for decades, managed by Peter's son, Stratton, after the deaths of Peter and George. His uncle Basil continued to manage a second Leopold's store, located in the Medical Arts Shopping Center. Unfortunately for diehard Leopold's fans, Stratton eventually left the family business to pursue a Hollywood movie production career, and the original store was forced to close.
Stratton never forgot his family connection to the creamy treat, and on August 18, 2004, Leopold's reopened at a new Savannah location: 212 East Broughton Street. The circa 1935 diner was refurbished in the style of a vintage soda fountain under the artistic direction of Academy Award nominated designer Dan Lomino. Dan and Stratton had worked together on many projects in Hollywood; in fact, the walls of Leopold's are to this day covered in autographed pictures of the stars with whom Dan and Stratton worked during their Hollywood years. Dan's Hollywood touch has since charmed local Savannah-ites and tourists alike, surrounding Leopold's patron with the nostalgia of old and filling them with ice cream crafted from the original, secret Leopold family recipes, despite the technically "newer" location.
Leopold's menu boasts an impressive array of flavors, including Butter Pecan, Chocolate Swirl, Girl Scouts Thin Mint 'N Cream (paying homage to Juliette Gordon Lowe, Savannah native and founder of the Girl Scouts) and the most popular Tutti Frutti, which has been, and continues to be, shipped all over the world.