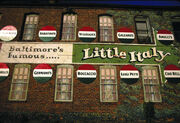 Little Italy
is a neighborhood in Baltimore that was formed as Italian immigrants poured into the city in the 1880's. Many immigrants moved to America at the time because of the gold rush out West, and subsequently moved to Baltimore because it was usually one of the last stops before the trains moved westward. To accommodate the influx of travelers, the city expanded its railway stations as well as their restaurant and hospitality businesses, and many immigrants decided to stay and take advantage of the steady jobs where they were.
Little Italy became the Italian immigrant's home away from home, with Italian restaurants, the St. Leo the Great Roman Catholic Church, and bocce ball. Due to the high rate of home ownership, the neighborhood has remained very Italian, with many residents claiming at least some Italian heritage. Of course, the ethnic makeup is becoming much more diverse as the city itself changes, but the number of Italian restaurants and bakeries to be found in Little Italy attests to a history that will not disappear.
Ad blocker interference detected!
Wikia is a free-to-use site that makes money from advertising. We have a modified experience for viewers using ad blockers

Wikia is not accessible if you've made further modifications. Remove the custom ad blocker rule(s) and the page will load as expected.