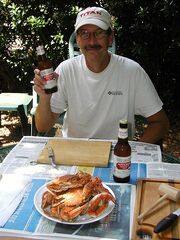 National Bohemian Beer was once the apple of Baltimore's eyes. A beloved beer of Maryland, National Bohemian is a Bohemian style beer first brewed in Baltimore in 1885 by the National Brewing Company. The company had to shut down their operations during Prohibition, but they came back stronger with sales really taking off in the 1950's and 60's.
A mascot, properly named Mr. Boh, was introduced in the 1930's. He was simply a round face sporting a huge mustache and one eye, but in 1950 he was given a mouth and an ear. No-one seems to be really sure why he only has one eye, but the mascot became a popular character in the Baltimore landscape. In the late 1940's, the brewery's engineering team put together a machine that could can and package the beer into six packs, making them the first company to sell canned beer in sets of six.
In 1963 the company introduced Colt 45, a malt liquor beverage that was made to compete with the bigger beer brands that were moving in on the Baltimore brewing scene. As one of the country's first malt liquor brews, the drink gained popularity across the country, while Natty Boh had established themselves in nearly every bar and restaurant throughout the city.
Their success was short lived, as bigger, more aggressive national brands such as Pabst and Budweiser began moving in. The brewery succumbed to big industry pressure and competition, and the Baltimore branch closed in 1978. After several transactions, what was left of the National Brewing Company was bought by Pabst Brewing, which continues to produce Nattie Boh and Colt 45.
Although the beer is no longer brewed in Baltimore, it is still available in many bars and restaurants throughout the Maryland area. A neon replica of Mr. Boh can be seen on top of the old brewery, which is now part of a commercial and residential community known as Brewer's Hill.