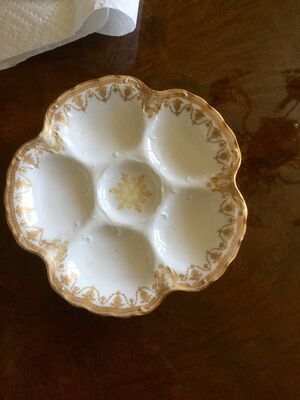 Oyster plates and platter styles were developed to allow the party hostess to serve the oyster in a variety of ways appropriate to the situation. The number of wells in an oyster plate can vary widely, but the most common number of wells an oyster plates will contain is five or six. In general, oysters are served in three ways:
First, they are served on ice, in the half shell. Oysters served in this form require deep plates to hold the ice, and are often fitted with underplates to catch the melted water overflow. The wells in these types of plates are generally smaller and deeper than those plates not meant to hold ice.
Second, they are served without ice, in the half shell. Plate wells are often larger and shallower than those plates manufactured to hold ice.
Third, they are served without their shells. The type of serving dish used for these oysters is by far the most common type found today. These types of plates are often quite lavishly decorated, due to the fact that they cannot be scratched or damaged by the rough oyster shell. These types of plates are most highly prized by Southern party-givers and collectors alike.
Oyster Silverware
Edit
Oyster utensils were generally produced in sterling silver or silver plate, both of which were widely available to all socioeconomic classes in the mid-nineteenth century. The price of American silver plummeted after the discovery of Nevada's Comstock Lode in 1859, increasing silver's use. Furthermore, the development of electroplating, or silver plating, in the 1880s made silver utensils widely available.
Oyster utensils come in many forms. Oyster forks, for instance, generally have two or three tines that are either curved or straight and can vary greatly in length. Oyster serving spoons, or oyster servers, have a spoon-like shape with small tines on one side of the spoon's well. Oyster ladles have oval or round bowls, one or two pouring lips, and thicker handles than those found on punch ladles.