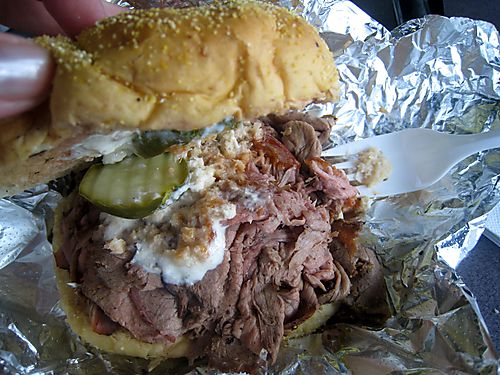 Pit Beef is Baltimore's compromise between Southern BBQ and an American roast beef sandwich. The pit masters at various local spots dry rub a top round cut of beef before grilling it on a charcoal grill. The beef is left still rare in the center, while the outside is crispy and a burnt. The meat is then sliced very thin, hopefully mixed with some of the charred crust, and piled on a Kaiser roll or white bread. While most places offer a wide variety of sauces and condiments, the Baltimore tradition is to eat the sandwich with a horseradish sauce mixed with mayonnaise known as Tiger Sauce, and thinly sliced raw onions. Pit beef is usually best enjoyed in an outdoor setting, and locals swear that the more shack-like the venue, the better it will be. Most places are outside of downtown Baltimore, often found on the Eastern boundaries of the city. Chaps is one favorite, but others include Pioneer Pit Beef, Beefalo Bob's, and Charcoal Grill.
Ad blocker interference detected!
Wikia is a free-to-use site that makes money from advertising. We have a modified experience for viewers using ad blockers

Wikia is not accessible if you've made further modifications. Remove the custom ad blocker rule(s) and the page will load as expected.