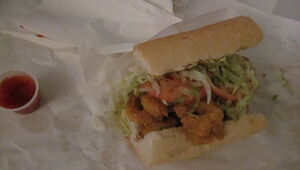 Before the 1930s a sandwich made of French bread, containing meat or seafood was commonly referred to as a "loaf." The restaurant, Ye Olde College Inn, still uses this term and specializes in "oyster loaves," which the Picayune Creole Cookbook specifically calls "The Peacemaker." Errant husbands arriving home late after a night of carousing would pick up an oyster loaf as a peace offering to disgruntled wives. But it would take the disgruntlement of all the streetcar drivers of New Orleans to create a new kind of "loaf": the po-boy.
On July 1, 1929, the Amalgamated Association of Electric Street Railway Employees, Division 194 went on strike. "The car man's union" struck to protect their union and job security against New Orleans Public Service, Inc., the transit service and the city's electric provider. Historian Michael Mizell-Nelson notes, "The human representatives of the streetcar company endeared themselves to most passengers, while the utility that collected five-cent fares as well as gas and electric bill payments grew increasingly unpopular . . . Veteran operator pairs enjoyed seniority, so passengers might commute to work with the same pair of men for many years."
One source of support came from Bennie and Clovis Martin. Both brothers had been union streetcar operators. In 1922 they opened Martin Brothers Coffee Stand and Restaurant in the French Market. Though originally a coffee stand, their sandwiches became so popular they relocated to the 2000 block of St. Claude Avenue, close to John Gendusa Bakery. Since the narrow ends from a standard French gigot would always be discarded when making sandwiches, the Martins asked Gendusa to create a longer more uniformly shaped loaf with squared ends. These specially developed loaves would come in handy for the striking car men.
The Martin Brothers were among the many local businesses which donated goods and services to the striking union local. "Our meal is free to any members of Division 194….We are with you till h--l freezes, and when it does, we will furnish blankets to keep you warm." As the strike wore on, the free meal translated into a free sandwich. Bennie Martin recalled, "We fed those men free of charge until the strike ended. Whenever we saw one of the striking men coming, one of us would say, 'Here comes another poor boy.' " The name stuck. As early as 1932, a competitor advertised, "Improved Poor Boy Sandwich." And Mizell-Nelson notes "the sandwich name had spread well beyond the Gulf Coast, including reports of use in Billings, Montana, and San Diego, California, by the mid-1960s."
Though some argue term "po-boy" is racist and mocks black dialect, Mizell-Nelson observes "given the sandwich's origins in the mixed-race working-class French Quarter neighborhood, the term mocked white as well as black speech." And though its connections to the strike have eroded, its popularity remains.