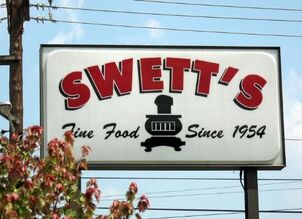 Swett's is a popular meat and three restaurant that opened in Nashville. The place did not begin as a soul food restaurant, and it does not seem like there was originally any intention of making it one. The Swett family opened their tavern in 1920, but realized that they had to figure out how to feed their ten children while managing the bar. They began serving their home cooked family dinners in the tavern, and their customers quickly started asking for food to go along with their drinks.
Persuaded by the hungry customers, the family eventually gave in and started the popular meat-and-three restaurant in 1954. The business was passed through the family, and the restaurant is now on its third generation of the family with proprietor David Swett Jr. He doesn't use recipes because he wants things to be a little different every day, for each chef to put a little different spin on each meal. Each dish and vegetable side is made fresh that day, from turnip greens to the creamed potatoes.
The meat and three is a great food institution, a classic Southern style meal found frequently in Nashville. Usually considered soul food, but sometimes not, the meal might consist of country ham or pulled pork barbeque, or maybe hot fried chicken or a fried fish sandwich, supported by three kinds of vegetables. Macaroni and cheese, collard greens, baked beans, corn pudding and whatever happens to be on the menu that day are all considered vegetables in the Southern tradition.