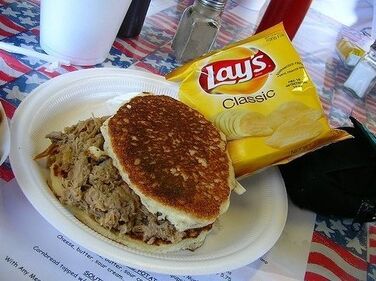 In Tennessee, barbeque is a tradition that takes on many different permutations, depending on which part of the state you're in and who's cooking the meat. Pork is the most common barbequed meat in this state, sticking with the traditions of the much of the eastern seaboard's cooking methods.
The Western part of Tennessee is known for their particular way of smoking hogs, but around Memphis, the pig shoulder is the most common choice. The eastern part of TN is known for its Appelachien hickory smoked shoulders or hams, which is then sliced and topped with a thick sweet sauce. In the middle of the state, the options are not quite as numerous, but they make an interesting addition to the standard meat: corn cakes.
In many bbq restaurants around Nashville, pulled pork is served on top of corn cakes with coleslaw. One place particularly well known for this style is Papa KayJoe's Bar-b-que, which opened in 2000 with a traditional bbq mindset. They slow cook their meats on hickory coals and then serve much of it sandwiched on simple corn cakes fried on the griddle in lard. The owner and chef prides himself on making the meat so well that sauce is an unnecessary addition, mostly because the meat is cooked well and then tossed with salt and a bit of leftover grease--just enough to flavor it without leaving a greasy effect. His sauces span the spectrum of traditional bbq, from sweet and thick to vinegary and spicy, and the slaw is also vinegar based. Other iterations of this style bbq in Nashville can be found at Mary's Old Fashioned Barbeque Pit, and Rippy's.