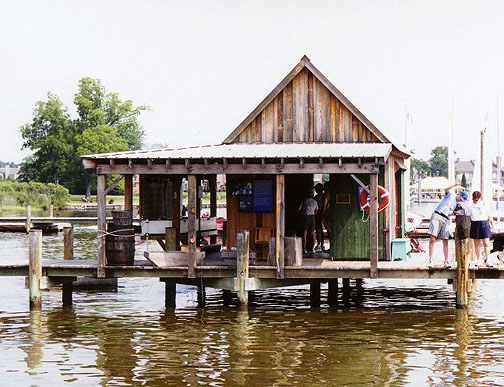 The Chesapeake Bay Maritime Museum can be found in Saint Michaels, the quaint, quiet town on the Miles River on the Eastern Shore of Maryland. The museum pays homage to the old ways of living and eating on the Bay and its rivers, showcasing a number of boats that were used to catch the oysters and crabs that were once so plentiful in Maryland's waters.
There are chances to bait crab traps and use oyster tongs from the dock, boats to jump on and lighthouses to explore. Many of the exhibits take you back in time, showing life before the days of the engines and machinery on fishing boats, when the crew depended on the wind and their own strength to harvest their catch.
The museum then goes on to show how the industry evolved with the introduction of motors and machines, and the effects of the increased harvesting on the health of the entire bay. After learning what it was like to be a waterman, find one of the various crab shacks around town to get a pile of freshly steamed crabs covered in Old Bay. You'll complete your education by learning how to properly eat these delicious crustaceans that people have been catching for ages at any number of local crab houses.