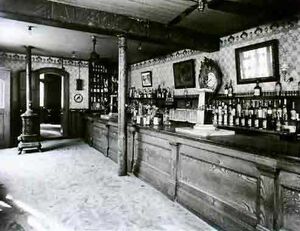 The Old Absinthe House is a bar located at the intersection of Bourbon Street and Bienville in New Orleans, LA. Constructed at the beginning of the 19th century by Pedro Front and Francisco Juncadelia, the building originally served as their importing firm, then a grocery store, and then in 1846 the lower floor became Aleix's Coffee House, a bar. The saloon was a popular spot for young aristocrats from France and Spain who brought with them a desire for familiar drinks, including the absinthe frappe, which was typically served before meals in Europe. Cayetano Ferrér became the bartender in 1869, and served absinthe dripped in the Parisian manner through the large absinthe fountains that dominated the bar. These marble fountains were the first imported from Europe, and they allowed water to drip, drop by tiny drop, into a glass filled with absinthe, until the perfect flavor and balance was achieved. Ferrér was credited with introducing the Absinthe Frappe to the American population and his drink became so popular, he renamed the bar the Absinthe Room when he leased it in 1874.

When absinthe was banned from the United States during Prohibition, the Absinthe Room was singled out and shut down as an example. The bar was supposed to have been destroyed, along with the marble fountains and any sign of alcoholic enjoyment. Fortunately, the bar was saved by dedicated employees, who snuck it across the street to another building, where it remained hidden for years. Another bar opened in that space and called itself The Absinthe House Bar, and it remained in that space on Conti and Bourbon until 2004. The bar was purchased and restored to its original place in what is now called the Old Absinthe House, where absinthe is continued to be enjoyed by locals and tourists alike.

Legend has all sorts of characters enjoying absinthe frappes in the Absinthe Room, from Pirate Jean Laffite's and General Andrew Jackson, to Oscar Wilde, to Mark Twain to Franklin Roosevelt. The love of absinthe in New Orleans has survived the crossing of the Atlantic, Prohibition, and now is completely legal in the United States. Herbsaint, the absinthe substitute developed in New Orleans after absinthe was banned, is still drunk, but now it is possible to have the real thing in one of the oldest establishments in New Orleans.