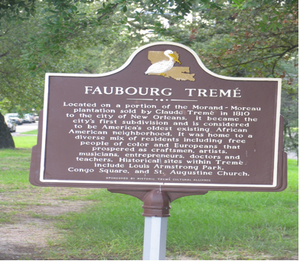 Faubourg Tremé was developed on the natural levee at the trunk of Bayou St. John/Esplanade Ridge and soon became one of the most diverse communities in the United States, home to French, Spanish, other European immigrants, and gens de couleur libre (free people of color). It's historical legacy stems from the Tremé's diverse residents, elaborate festivals, markets, heritage sites, religious events, and music traditions.
Culinary Traditions
Edit
The culinary traditions of Tremé can best be seen in the celebratory food of the Black Mardi Gras Indians. Sassafras (or filé ) a gift from the Choctaw Indians, is used in filé gumbo. Okra , the epitome of African food, is used in okra gubo. The New Orleans Monday ritual of Red Beans and Rice incorporates the West African staple of rice and beans, as do "calas," the fried rice fritters sold on the street corners of Tremé or the French Quarter. The combination of Native American, European, and African culinary traditions has resulted in a truly unique and universal food culture.
Modern day Tremé
Edit
Food and drink vendors are seen at Second Line Parades, St. Joseph night, Super Sundays, Mardi Gras, and outside the bars on the weekends. Walking liquor stores and Okra Man represent the entrepreneur spirit that thrives in the neighborhood.
Restaurants in Tremé
Edit
References
Edit
Visit the SoFAB Museum's online Tremé exhibit to learn more about the history and culture of the neighborhood.